Part 2
Tue, Aug 15th


Day Trip to Swiftcurrent Lookout
Day 2, 2nd night at Granite Park Chalet
4 miles round trip, 1,600 ft ascent and descent
A scurry starts as quiet hours end at 6:00. By 7:00, the kitchen is filling with guests pulling their breakfasts off the shelf. The two Glacier Guides leaders, ?Jen & Vince, are cooking up this wonderful egg and hash brown mixture with fresh looking pineapple. I try not to gawk as I make my coffee and get down our breakfast for the next 11 days, cereal in Nido instant milk. The morning dawns beautifully and nearly smoke free. Joy, I tell you!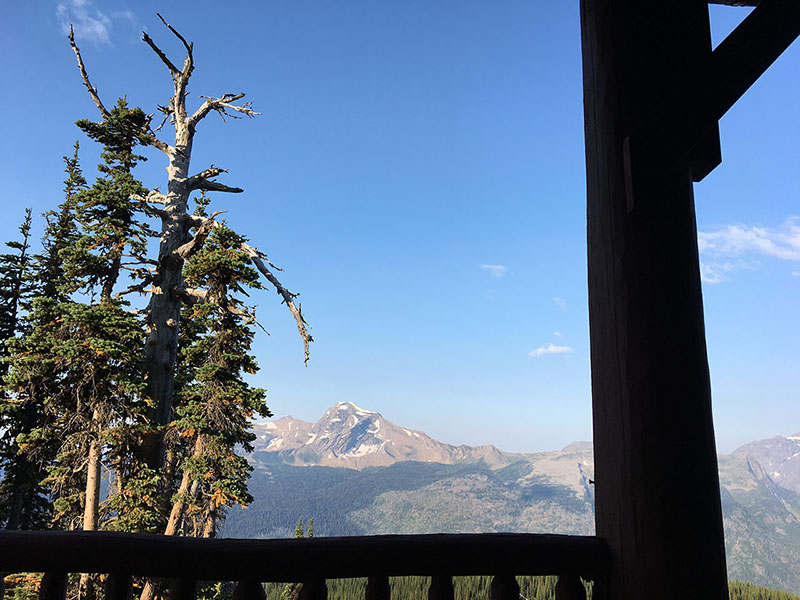 We've decided on Swiftcurrent Lookout, highest maintained trail in the park. Good little test for the legs too, some 2000 ft Elev in 2.5 miles. Very shortly one gets that iconic view that is vintage Granite Park Chalet.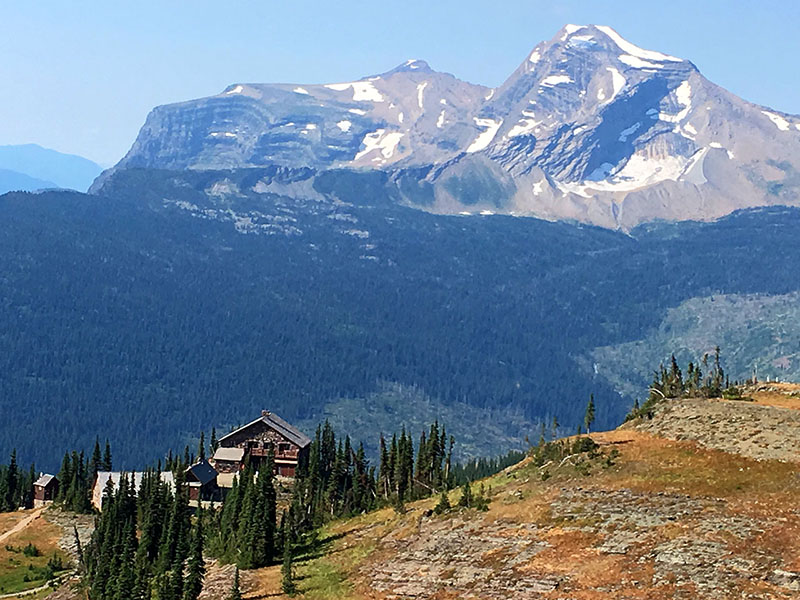 As we ascend, we see two guys in the midst of trail maintenance hauling rocks…they are singing, happily. I say, "you guys are the modern day equivalents of the CCC (Civilian Conservation Corp)" and with a very proud 'Yup', they talk about 'getting' to do this season after season. Taking almost no time for a break, they are back to grading the trail with purpose.
Our feet seem lighter now not hauling those heavy cotton bags of rocks. There's a stream off left and I see the fuchsia pinks of my favorite, the Lewis Monkeyflower. Lots of lavender asters and yellow buckwheat showing today. Shortly before reaching Swiftcurrent Pass, the sign for the Lookout directs us left.
The switchbacks start. Mike notices a couple coming from the top actually running down. Soon we find out why as that chill wind whips us. We break out the fleece, hat, wind jacket & pants.
Also we meet John coming down, a 70-something defying his age, who manages the Mt. Brown Lookout trail proudly – "That's My trail". But today he was getting in his 5000 vertical feet of exercise having come up from The Loop in hopes of seeing Buck, who normally is manning the lookout. Buck has a mandatory day off from his Swiftcurrent Lookout post every 12 days. Buck has been doing this for some ?13 years, would've loved to have met him but that's what doing it a next time is for. John is pure positive energy and one gets the sense that these Montana, especially Glacier, folk have tough written in their DNA.
Great to arrive at the Lookout on such a spectacular day!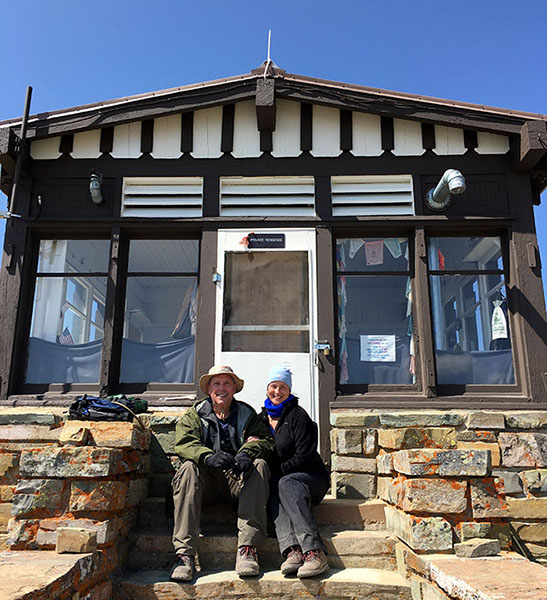 And what sights, looking South at Swiftcurrent Glacier, Mt Gould.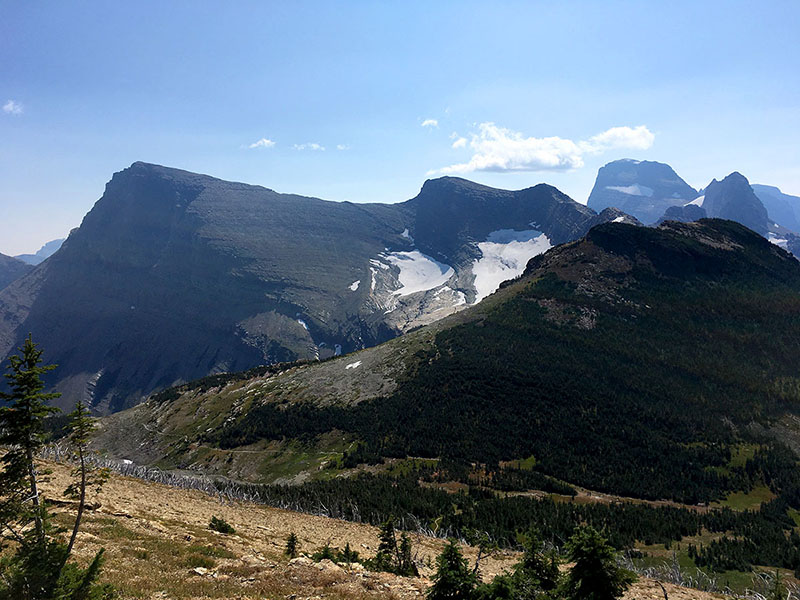 Northwest to the Livingston Range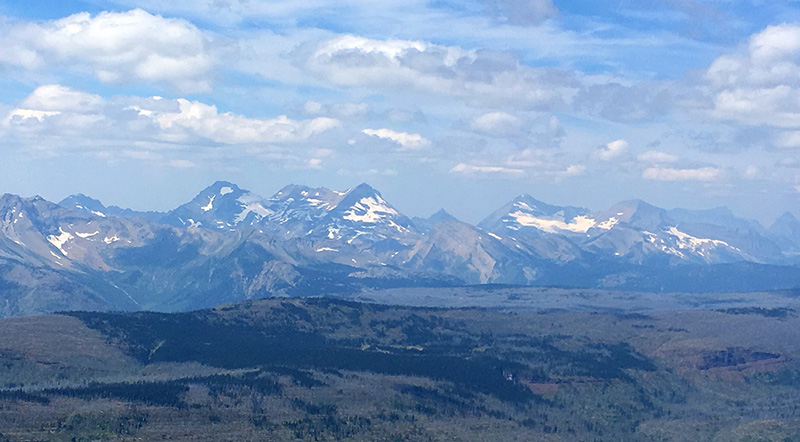 And a nod to our friends at Esatto, a boot shot toward where we're headed, Northern Highline and over the Divide toward Belly River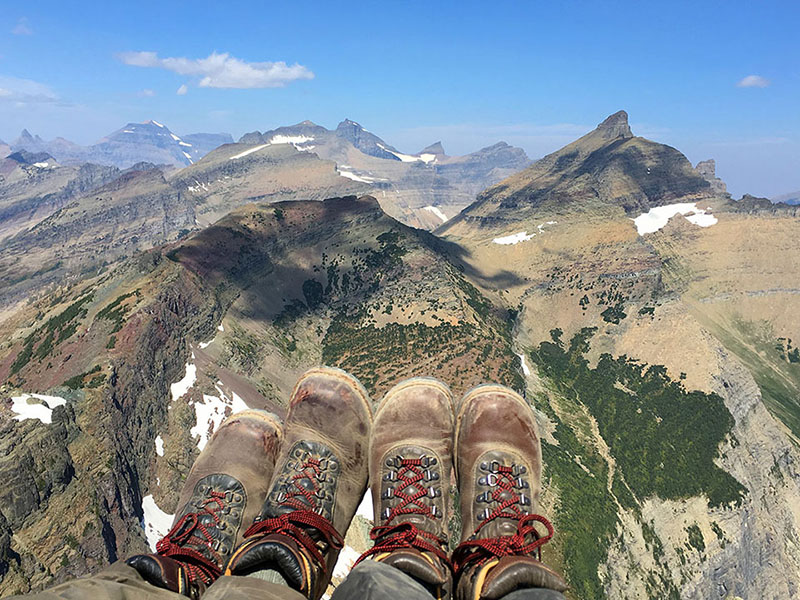 Met a cute couple up there who are traveling the major parks of The West that happened to meet in Lebanon, TN. Small world, as is too often said, but indeed feels that way when you're way up there.
Hated to leave but making our way down we were rewarded with a Golden Eagle swooping back and forth below us. Saw it so close that I could make out white splotches in its cinnamon brown wings.
Eagle Video Link:
https://youtu.be/q6Rcmlh43IM
Back down at Swiftcurrent Pass Cairn, I add my stone to the many which honor HockeyRef (Andy), who added so much to Glacier Park Chat and who loved this hike the most: Highline to Many Glacier via Swiftcurrent Pass.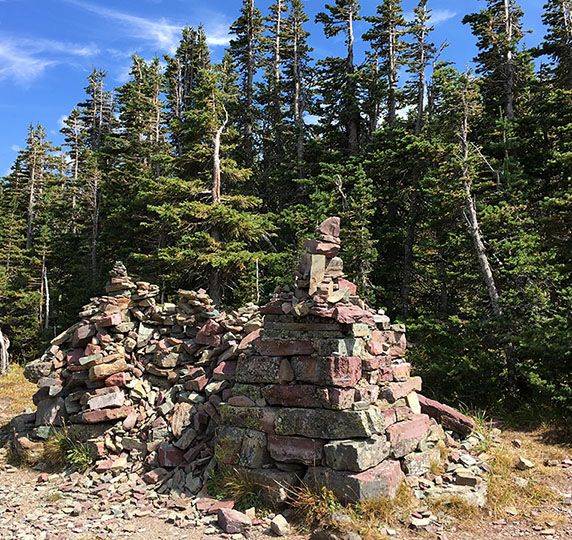 Back at the Chalet a beautiful relaxed afternoon, chatting with other guests.
Wed, Aug 16th


Day Trip to Grinnell Glacier Overlook
Day 3, 3rd night at Granite Park Chalet
3.2 miles round trip, ~1,000 ft ascent and descent
Yet another blue sky morning at the Chalet. Taking time for catching up on my journal. We have it easy today, just going up to Grinnell Glacier Overlook, some 1000 vertical feet in 0.8 miles. Probably didn't start until 10:00, with plans for lunch up there.
Mike enjoys the PB&J I brought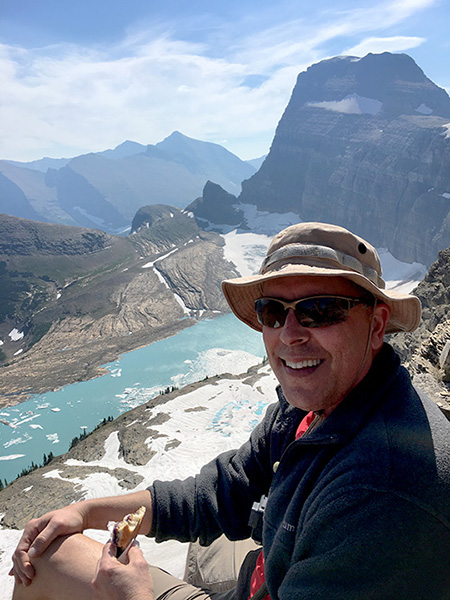 He goes out on ledges that feel totally 'dicey' to me. I follow but clearly adds new meaning to being "on edge"…what views though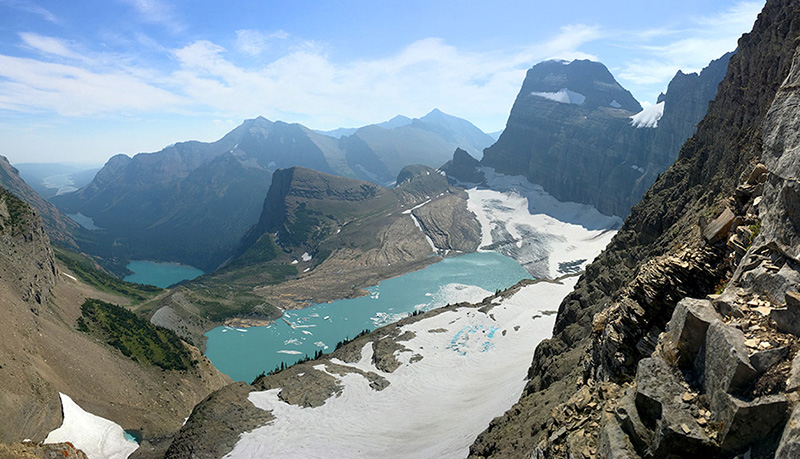 Me and My Buddy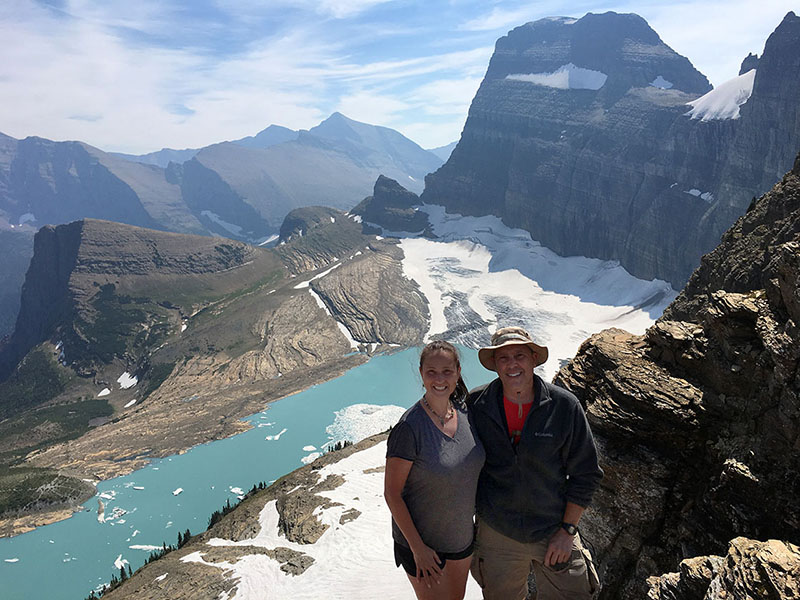 Coming down I feel like trying to capture some color and get down in & amongst the fireweed.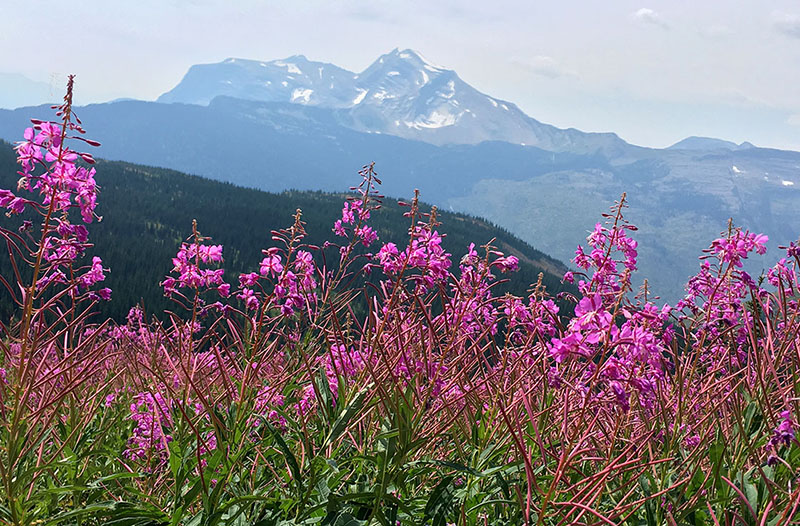 Picking huckleberries on the way back, we must have introduced 12 youngsters about how to identify them. Never gets old seeing their delight. Mike has about 4 observers watching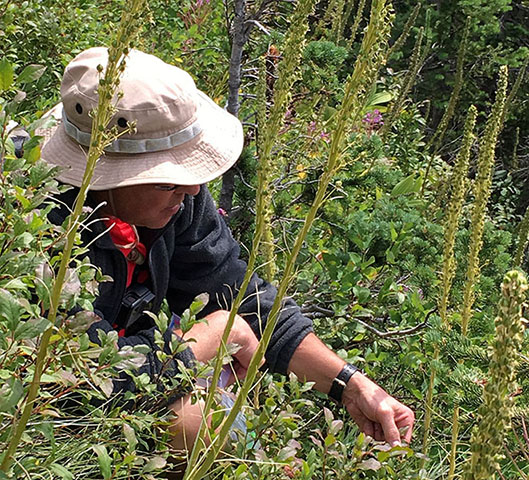 After we returned to the Chalet, Mike asked about the water situation at Fifty Mountain and we were sent to Ranger Mike Satler's residence. He welcomed us in and was glad to check with the dispatcher who would check with The Potters (in residence for the summer out at Fifty). Mike has been the Granite Park Ranger for many, many seasons (?14) and has stories about rescues, fires, and bears that we could have listened hours to. He also has the responsibility for clean water & sewer issues which he & Mike conversed at length about. No small challenges there. Then he also talked about garbage dumping practices that were going on 50 years ago this August when Night of the Grizzlies happened. They used to dump garbage off the side hill from the Chalet so guests could see the Grizzly bears. Boy, did they change practices!
This evening was also special b/c Granite Park Chalet's own Kathy Phillips Aasheim (concessionaire of both Chalets and employed since the 70's at GPC) took us through the decades of the Chalets with wonderful stories. She is living Glacier Magic with infectious love of the place and commitment to keep it pristine as she says 'for our children's children'. Wish so that I had videoed her talk, just a wonderful lady. Spent time visiting with her after about some of our favorite Sperry moments and showed her the picture of Mike bringing Renee (Sperry's manager) the prints he had made of our favorite night shot with the goat. She loved that.
(Renee from last Aug)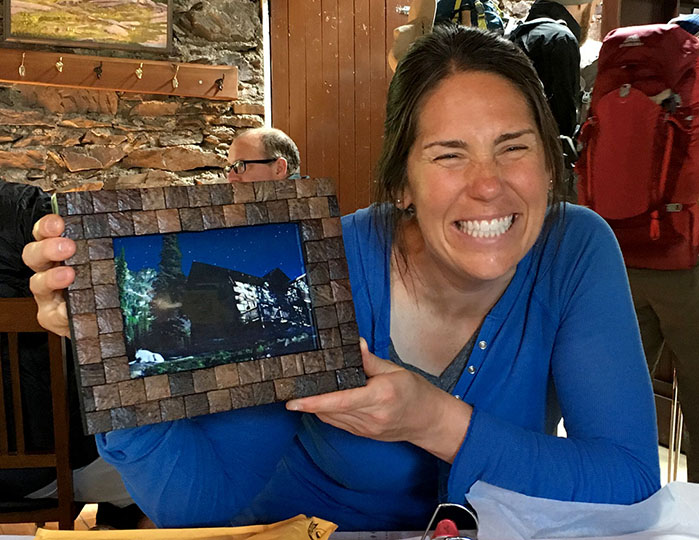 With the need for an early start tomorrow, Mike settled our tab and asked for early access in the kitchen to our food for packing.
Another evening of Awe
Next time, the backpack begins…
Thur, Aug 17th


Granite Park Chalet to Fifty Mountain
12 miles, 1890 ft ascent, 1800 ft descent
Day 4, 1st Day of Backpacking Trip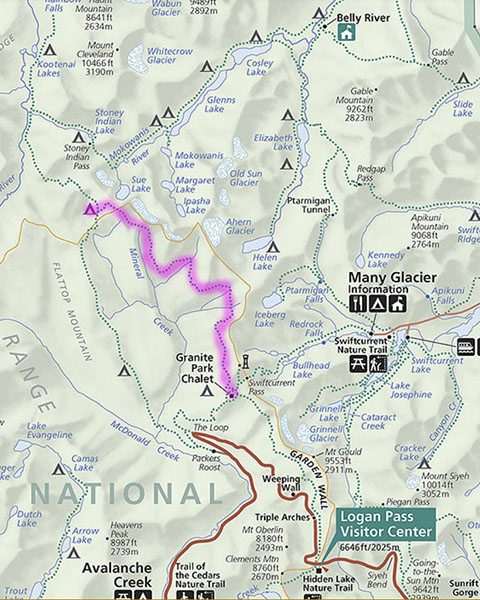 Afraid we took seriously the end of quiet hours at 6:00 b/c it was time to get to it. Going through the inventory in each of our packs, we split the tent and divvied up the food. We usually like to have all our food together in Opsaks (smell proof Ziplocs) when in Bear country but the amount this trip requires pushing packages into every nook and cranny. Went down to grab a quick breakfast, and savor that cup of coffee. Kathy came by to wish us good luck on our adventure and said we were in for some incredible views.
Later than we'd like, we're on trail at 8:30 and have a Bluebird Sky.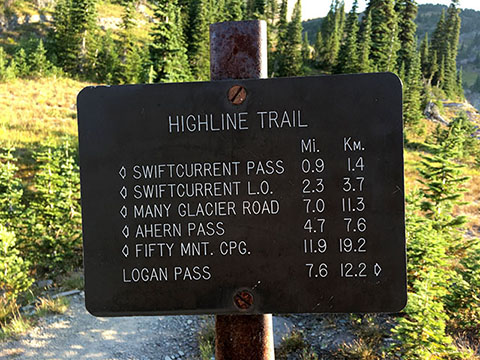 Trail starts off with a gentle grade & winding through fir trees. Not able to see far as Heavens Peak waves us goodbye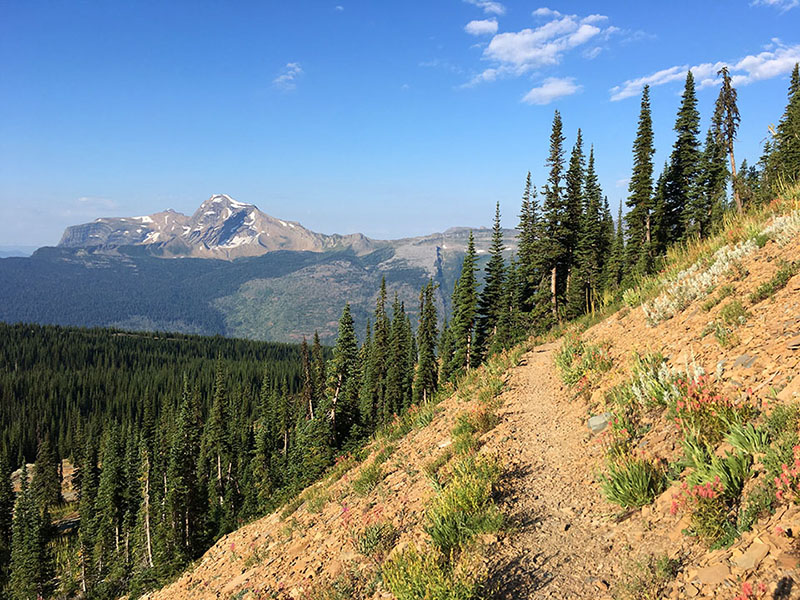 In a couple miles we top out a rise and can finally make out Mt's Kipp and Cathedral, the base of which is our objective. Kipp & Cathedral are just left of the brim of Mike's hat.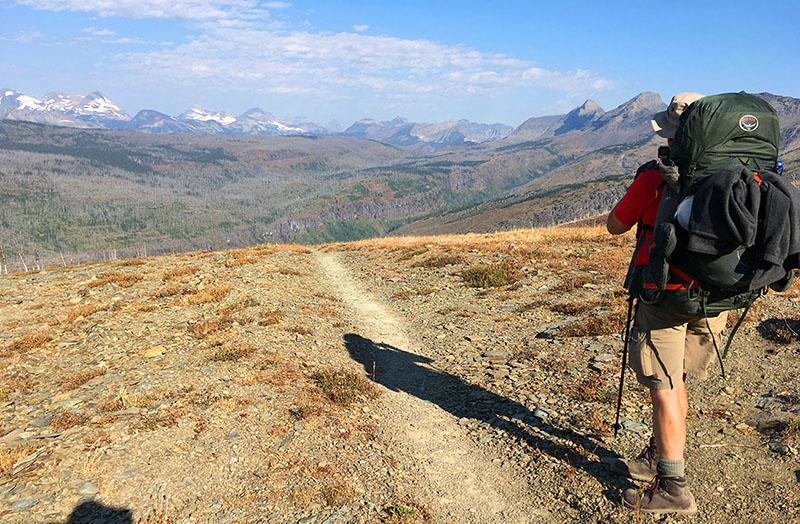 More traversing hillsides with wide open views now. The Trapper Creek Fire from years back have all the trees like a ghost town. Rounding a hillside and into shadow we pass under a snowfield on dry trail. It wasn't until reaching Ahern Creek that we realized we'd gone thru Ahern Drift without knowing it. Didn't have to bring those YakTrax after all. They'd only blasted August 8th so it was a surprise to see it that melted.
Ahern Creek is lovely and lush. Beautiful pinks, yellows, lavenders & whites along the stream. Wish we had time to go up to Ahern Pass and look onto Helen Lake. Mike also spots 2 mule deer up high. Iceberg peak looms above.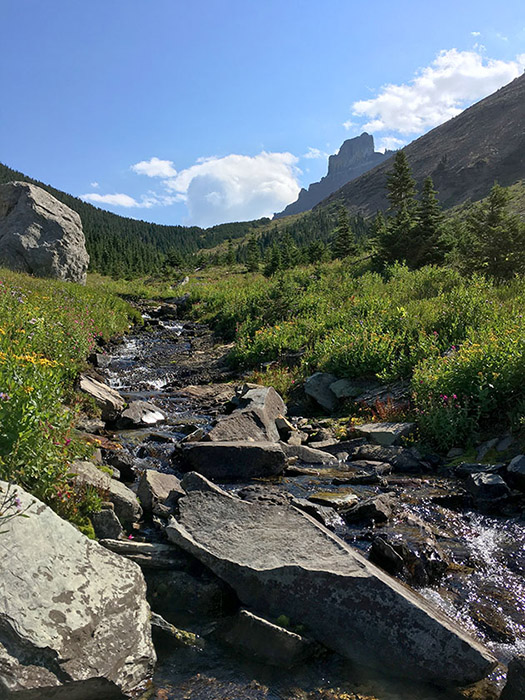 Looking ahead at Ahern Peak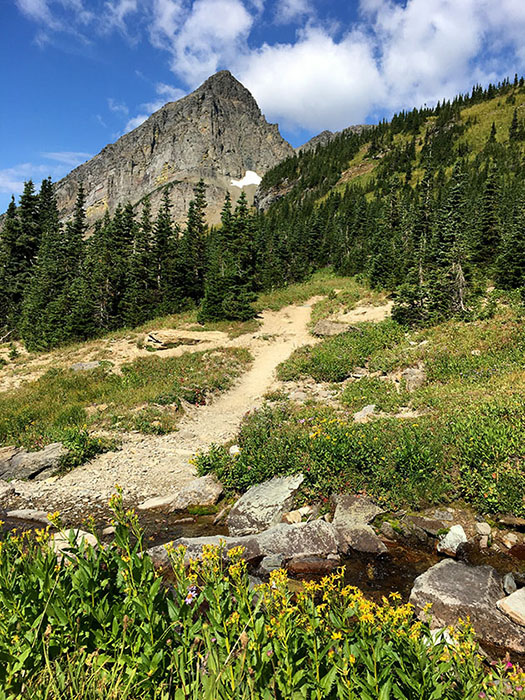 A look back at Ahern Drift, snow well receded above trail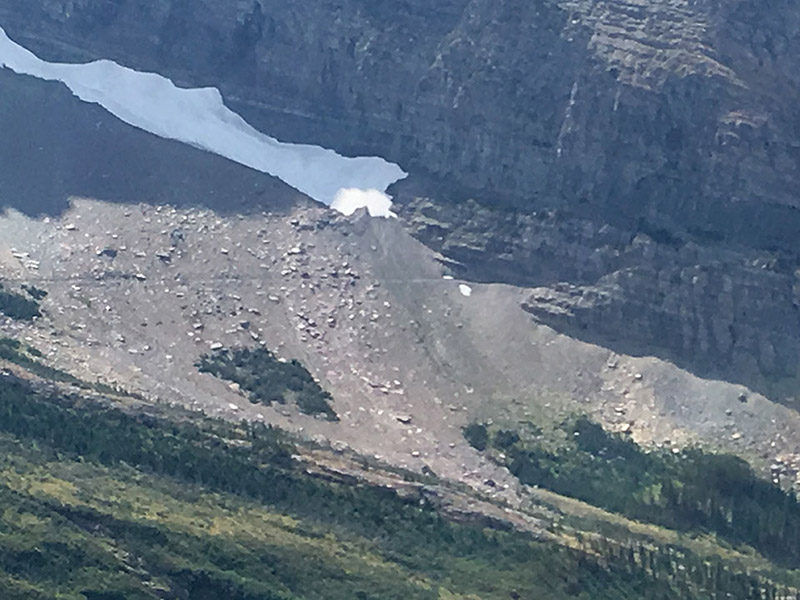 Now for the descent, down thru shaded trees, some switchbacking. Toes really not doing well in the boots. My sense is that I'm gonna lose that right big toe-nail. Left little toe winces with each step. Left knee starting to sing as well. Fireweed guides us in to Cattle Queen Creek and seems the perfect lunch stop. Mike sees several Bighorn well camouflaged in the cliffs above.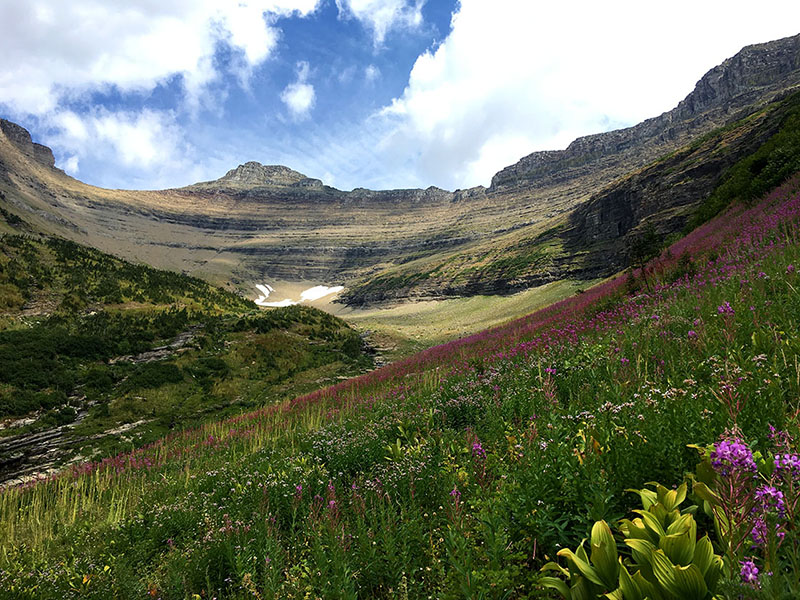 The Creek at Cattle Queen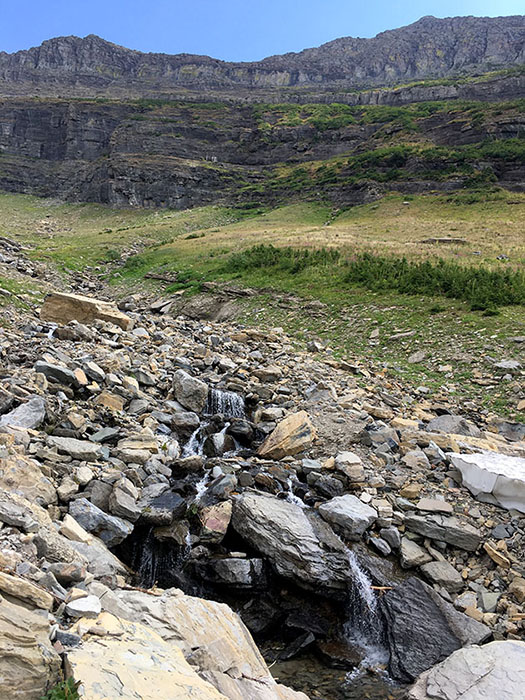 Now its business. Sun is full on and we face 4 miles of up. Feels like we've done so much elevation gain but Mike's GPS doesn't lie. Try to drink in between huffing and puffing. Take electrolyte chews. We look back to see the fire at Sprague Creek start to blow up, the warm winds are just whippin'. It's too hot today.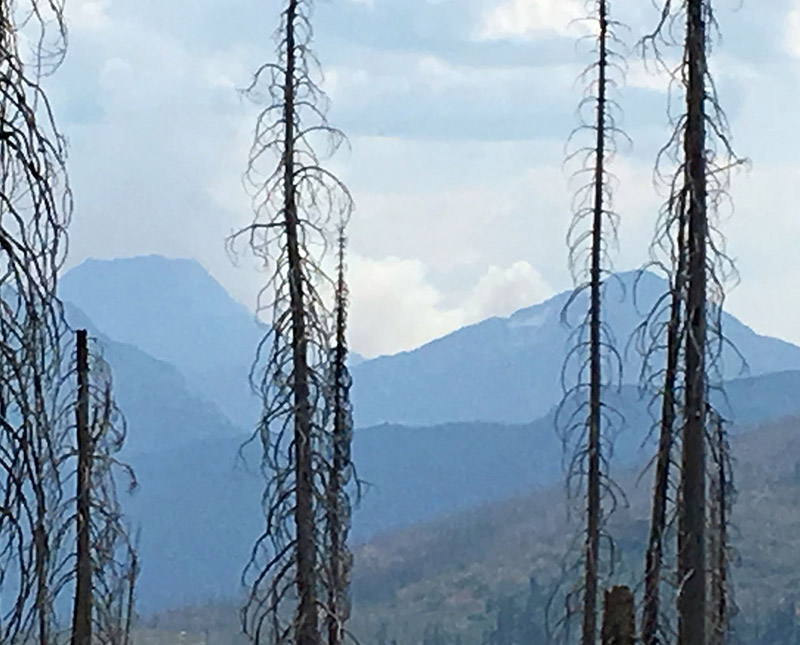 Now heels are starting to rub. Pack off break seeking what little shade one can find under alder. It's slow going and the pack just feels like a bus, weighted down with the nine days of food. Trudging forward, making small gains but hamstrings & gluts are talkin' to me. too many breaks. Mike's extremely patient. Tedious. What's torture is being able to see Kipp & Cathedral, so close yet terribly far. I top the saddle to finally start the descent into Fifty with no celebration, just a hobble.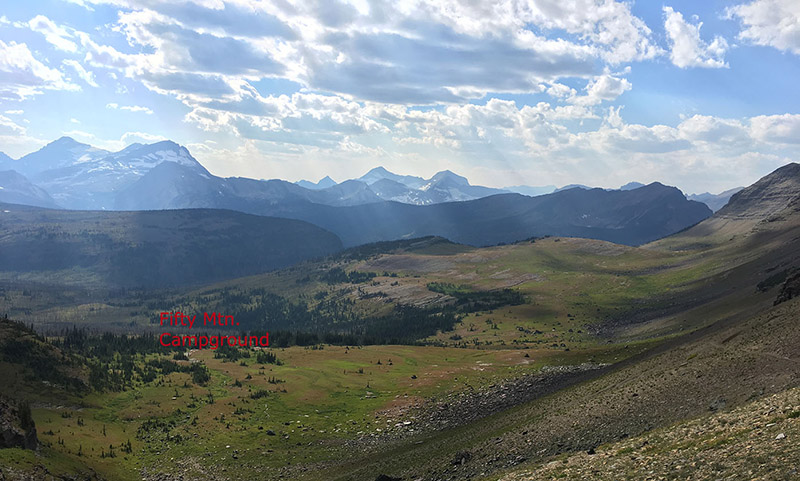 This mile of down is really torture, the feet ache badly and left knee has me wincing. Arrive at camp with little fanfare, en route to bearboxes to store huge cache of food. Nice campsite in shadow of Cathedral.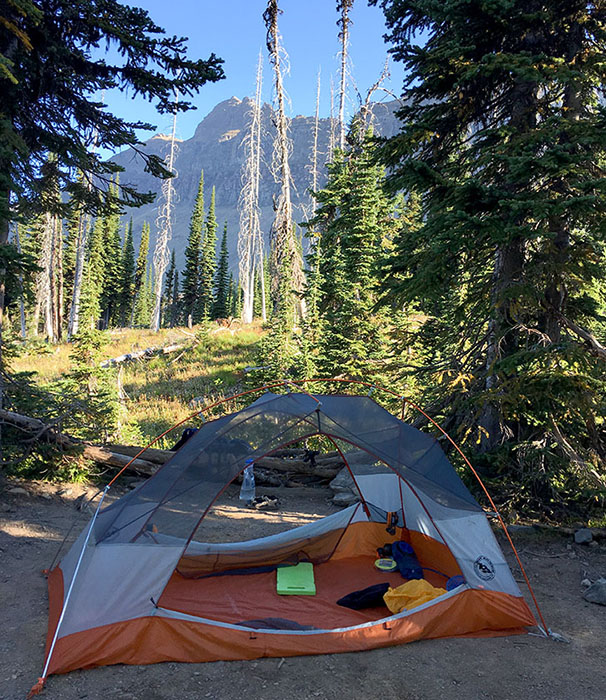 Retired GNP Ranger over 25 years Gary Moses comes over to greet us. He explains the low water situation and where there are pools we can get our stores from. He notices my bum knee and explains who would be in Camp if I should need help tomorrow, indicating that people come in so injured that sometimes they need accommodations made or evac. Said very calmly that over the years he'd seen everything. Like Mike Satler, bears, fires, law enforcement issues, search & rescue...and responsible for Fifty to Logan to West Glacier. Was there for the rescue of the Father/Daughter Griz attack on Grinnell Glacier hike that required short haul helicopter on the Dad with a C2 fracture. Great guy Gary Moses, true love for the Park and still so involved after retirement.
My spirits are much improved out of my boots & with some rest. Mike and I both respond to pain with degrees of nausea but have learned big time that skipping dinner is not allowed. A group of 8 Russians gathers at dinner talking about how incredible the Sue Lake Overlook was today. Not in the cards for me today but I was so glad for them. Sunset offers consolation though and I'm gifted these images at Fifty Mountain.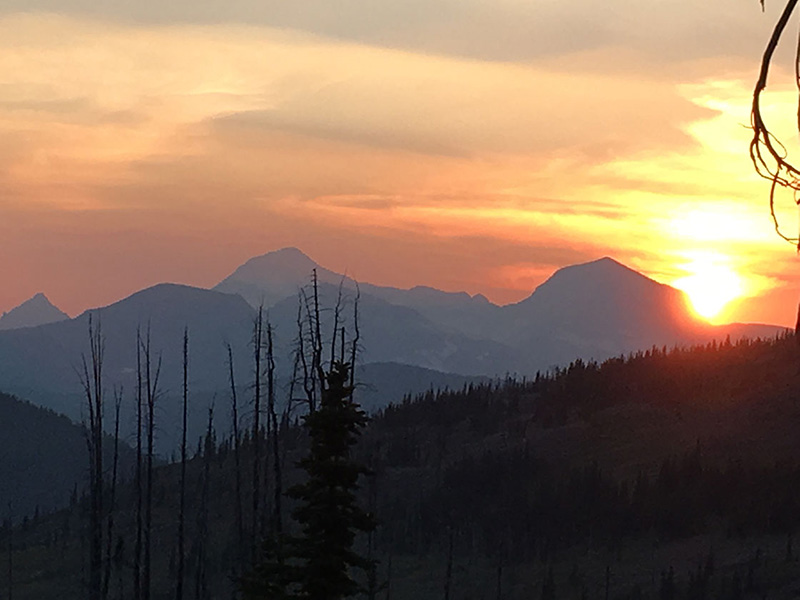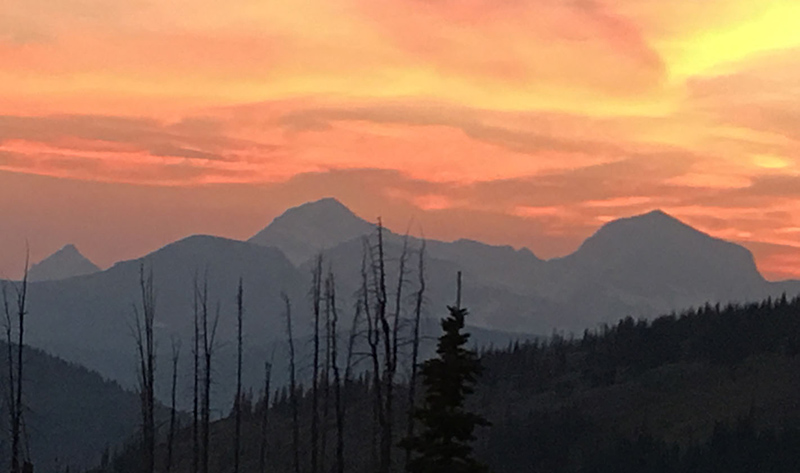 (ETA: Day 4 write-up + photos)