Ralph, no problem.
Pete. Thanks. As for the colors, I have no idea. The orange looks like some type of growth. The green is so bright, it looks like spray paint, but I'm not suggesting that. I'd really like to know how the rock can get such strong colors.
The ekg addition was a last minute add (it was after my bed time) so I grabbed an image of afib from the net.
My data: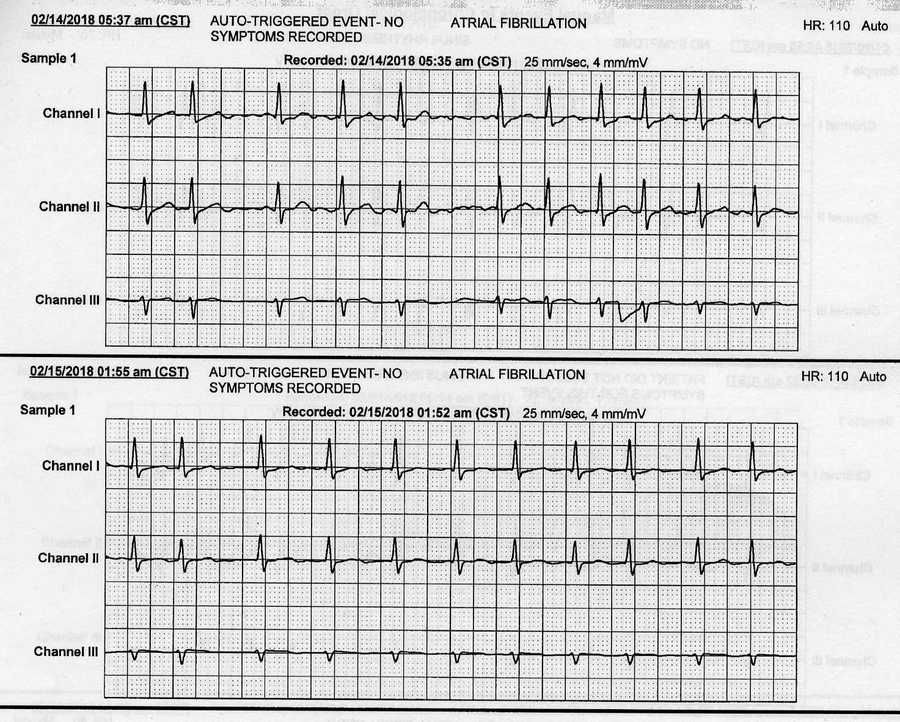 I have a bunch of data like the above, but it takes a while to scan it and get it off to photobucket. They now have phones that automatically (supposedly) sense the weird beats and send the data automatically to the company. Nothing the equipment you worked on back in the day. These two were recorded when I was sleeping and just waking up.
The easy way to spot afib it just to look at the irregular beat spacing. Another thing the docs talk about is a "p wave" which is a small blip before the main (QRS) wave. I guess it signifies that the atrium is firing and depolarizing (and sending a signal to the ventricles). I don't believe there is a p wave when you have afib. Docs out there, feel free to correct or add.
I'm starting to recognize afib in my Garmin data too. The Garmin records heart rate and not heart beats, but I know that my maximum is about 173 or so. So if my rate pops above that (usually for a short time at the beginning of a race), I have a problem. It also kicks my ass I don't feel good. Adrenaline makes the filter (SA node?) less selective, so I used to go into afib at the beginning of a race and then back into rhythm once I settled down. Another time I get afib is when I'm really relaxed like 5 in the morning. I believe this has to do with increased vagal tone. (And I don't know that subject well.)
Ok, too much info.
Jay