June 2013
What a fantastic park ! Located near Cortez, Colorado in far South west Colorado this place was really interesting
We stayed at the KOA in Cortez, nice place close enough to spend lots of time in the park
The Ancestral Pueblo people who made Mesa Verde their home for over 700 years, from A.D. 600 to 1300.
The hikes always go down first then back up. Some involve ladders and they are interesting to say the least
A few pictures
Spruce Tree house is the third largest cliff dwelling and was constructed between A.D. 1211 and 1278 by the ancestors of the Puebloan peoples of the Southwest. The dwelling contains about 130 rooms and 8 kivas , built into a natural alcove measuring 216 feet wide and 89 feet deep. It is thought to have been home for about 60 to 80 people.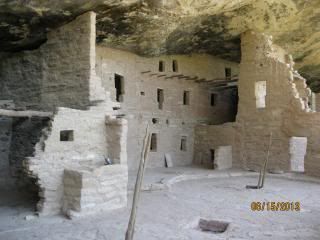 Cliff Palace contained 150 rooms and 23 kivas and had a population of approximately 100 people.
this is a ranger led tour with lots of little stairs and ladders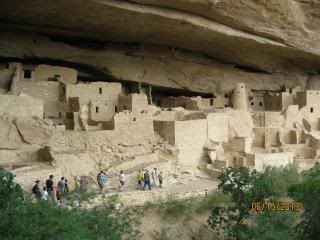 from behind you know nothing is there?
Spent most of the day here, it was hot in the canyons, many tourists had no water and needed it coming up sp bring water
Highly recommend this for a full day or more